enchanting, sinister illustrations by james jean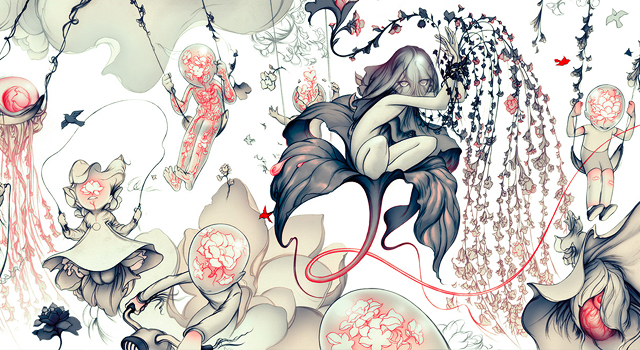 James Jean is a giant in the world of illustration, and one of my favorite artists. He won scores of awards for his comic book art (he created stunning covers for Fables, my favorite current series) and received wide acclaim for his work with Prada.

He retired from commercial projects in 2008 to focus on painting, and has since had several gallery shows.
Jean's aesthetic is immediately identifiable: dynamic compositions, delicate and incredibly intricate line work, ethereal creatures, fluid shapes, an often lurid physicality, and a fine balance between the wondrous and the grotesque. His work is gorgeous, enchanting, and sometimes sinister. Themes of mortality, childhood, transformation, and sensuality are interwoven in a compelling and innovative way. Some of my favorite works below; I strongly recommend checking out Jean's website for more.