tsukiji fish market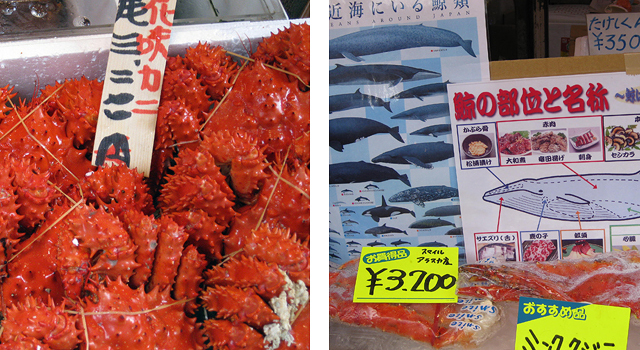 Okay, last Japan food post—after this, all I have left to post are random snapshots. Plus, I bought a megapack of butter at BJ's yesterday – Thanksgiving baking is so on. Anyway. In a decidedly different category of food, Tsukiji Fish Market in Tokyo.

I was too lazy to get up at 3am to see the tuna auction, but I showed up to the market around 10:30 and there was still plenty to see (and eat). Some choice tuna cuts from that morning's auction in a display case:

As I was strolling along and enjoying the free samples, one woman offered me a toothpick and I glanced over at the signs on her table…whale meat. Kind of awkward. I mean, I don't think eating whale is as ethically problematic as dolphin hunting (if at all), but still. Even more awkward: it was really good.

The color/spikiness of these crabs is awesome: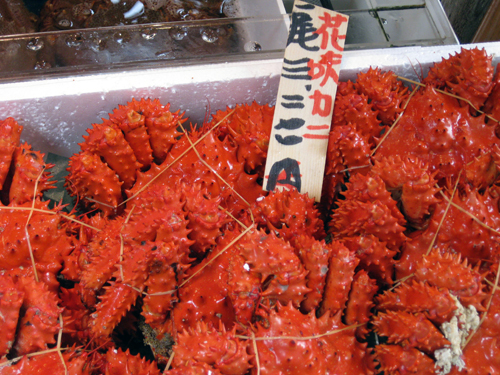 Sort of expected these arms to start moving: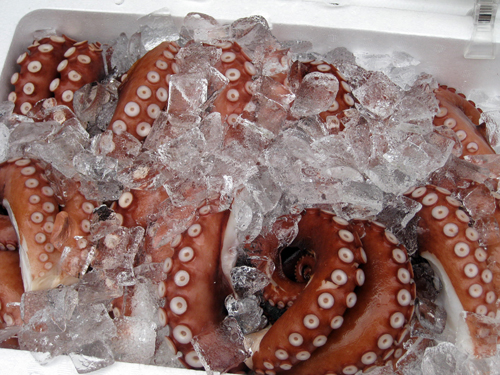 Fish version of a turducken? Big fish eating small fish eating shrimp?