vibrant floating paintings by joris kuipers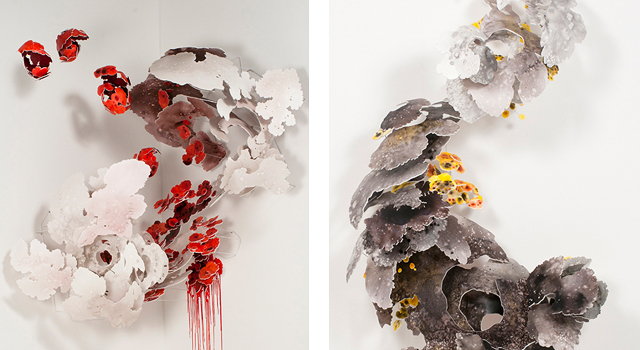 Joris Kuipers' intricate, richly detailed creations combine painting, sculpture, and installation art. Trained as a painter, Kuipers applies vibrant hues and complex textures to his surfaces, sometimes applying paint directly from the tube or using spray bottles to achieve what he calls a "contemporary pointillism."
Experimenting with surfaces from papier-maché to porcelain, Kuipers creates curving, multilayered, three-dimensional objects and installations. The delicacy and seeming weightlessness of these pieces is beautifully counterbalanced by their exuberantly whirling movement. In Kuipers' artist statement he references everything from Rococo architecture to woodcuts to MRI-scans; the hybrid result is wonderfully compelling.