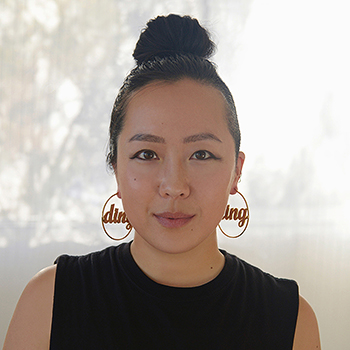 Sue Ding (she/her) is a filmmaker and artist based in Los Angeles. Her work explores race, gender, and diaspora through the lens of art and everyday life.
She is passionate about experimenting with film form, and crafting creative approaches with a strong visual sensibility. Her short film The Claudia Kishi Club premiered at SXSW and was acquired by Netflix. She also directed and produced the Emmy award-winning documentary  Artbound: Light and Space.
Sue works in a variety of nonfiction media, across platforms including digital, broadcast, immersive, and interactive apps. She also serves as a creative producer for docuseries, consults and lectures on nonfiction storytelling, and leads the XR/emerging media program at the Los Angeles Asian Pacific Film Festival.
Sue is an alum of MIT's Open Documentary Lab and Comparative Media Studies program, and a Senior Civic Media Fellow at USC's Annenberg School for Communication and Journalism. She is passionate about art, pop culture, speculative fiction, American mythmaking, dessert, the desert, The Fast and the Furious, and intersections between any/all of the above. Get in touch here.